Fire & Gas Mapping
Stylemark Design Services can provide fire and gas detection modelling. With over 20 years of experience within the Oil & Gas sectors, including extensive Fire & Gas System Design. Using Detect3D mapping software, the most precise and reliable 3D fire and gas mapping tool available for the placement of detectors. Our computer modelling techniques for fire and gas detection systems can optimise the number and position of detectors for both offshore and onshore installations, as shown by the computer models.
Detect3D allows us to create the model from 2D drawings or we can import your 3D CAD model direct, (DGN, DWG, OBJ and more)
Gas Detection
Whether line-of-sight flame detectors, Acoustic gas leak detectors, point IR and open-path gas detectors they can be positioned and oriented within any geometry.

Flame Detection
Positioning detectors within your loaded geometry to reduce blind spots and maximize coverage. By casting thousands of rays, within seconds Detect3D accounts for ALL obstructions blocking the flame detectors Field Of View (FOV).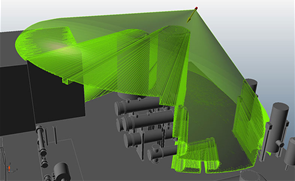 Benefits of Fire & Gas Mapping
Significant savings on operating costs
Reduce design times
Improved reliability
A clear compliance audit trail
Improved satefty methods

Stylemark Designs Ltd.
65 Saracen Road
Hellesdon
Norwich
Norfolk
NR6 6PB

Email Us